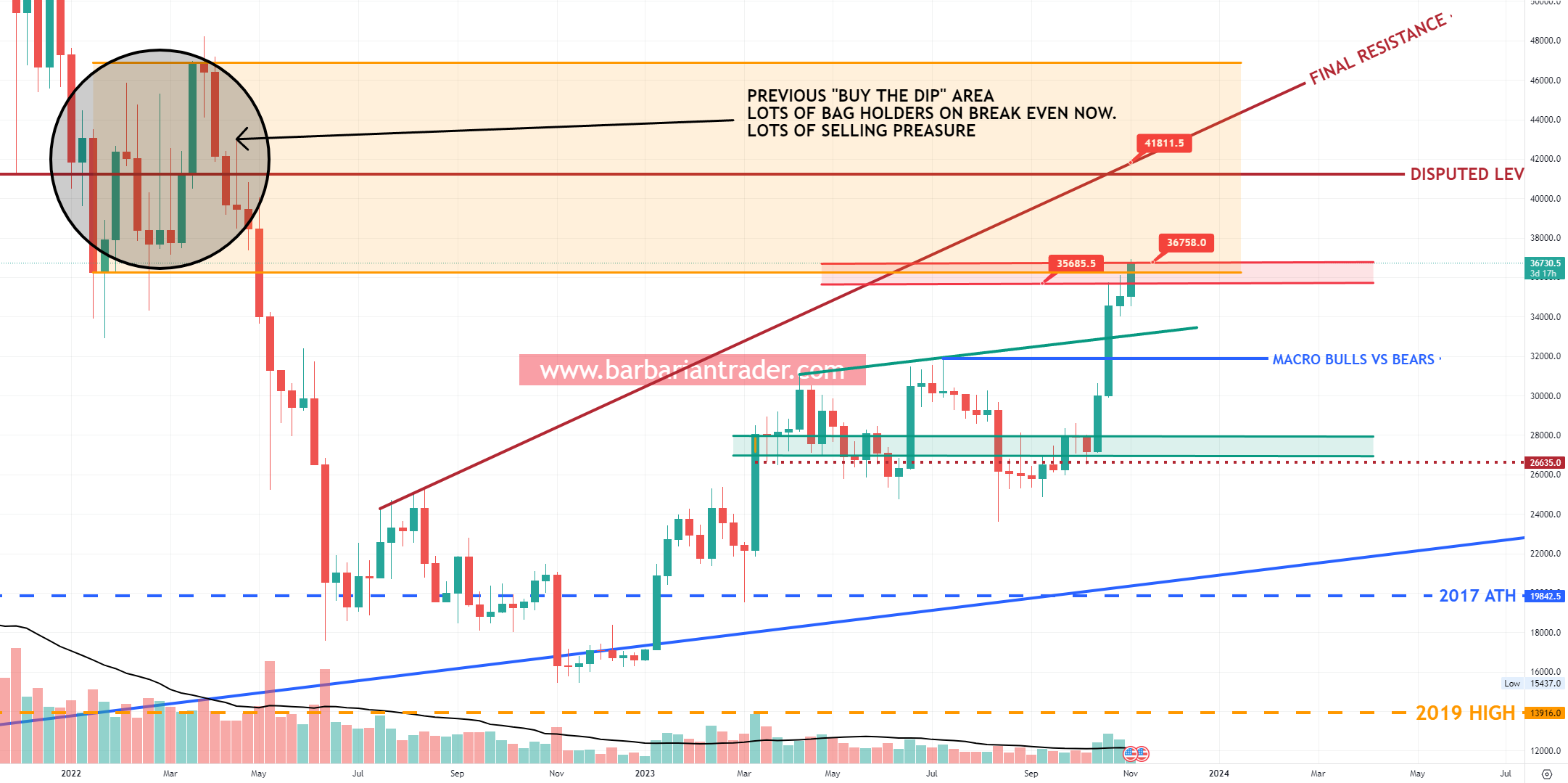 BITCOIN Weekly chart
For the last four weeks, Bitcoin price had a nice rally-up and for now is trading at the second resistance level of 36.758.
Even a lot of bulls are so excited about this rally, in my opinion, this rally will end soon as Bitcoin price has entered the biggest resistance that faced in the last few years. Let me explain to you why I think that is the case.
After the fast decline from ATH of 69.200 down to 33.000, and a correction of 52%, most of the traders and investors jumped in and loaded their bags on the bounce from 36.000 to 47.000 area thinking that that range is the bottom and Bitcoin price will continue the rally-up to 100.000. But Bitcoin price doesn't trade on wishes and traped them with another strong sell down to 15570, leaving those investors with a minus of about -60% from their investment.
Now, back in the present day, when the Bitcoin price is entering the old "Buy the dip" level, and a lot of investors are getting close to breaking even after more than a year of a negative portfolio, we will see a lot of exits of old positions and by that a lot of selling pressure.
The key levels of resistance, when I am writing this article, are:
39020 - key fib circle of resistance,
41220 - disputed level in the past,
41800 - key diagonal resistance
For support:
33160 - green diagonal of support,
32000 - previous local high
27000-28000 level of support (green lower channel)
A possible good swing short could be:
Entries in the 38000-42100 area and take profits in the 28000-33500 area
Trade safe and manage your risk
I hope you enjoyed this article. Don't forget to follow me on Twitter, YouTube and Instagram. As well you can join our Discord VIP trading group: https://www.patreon.com/barbariantrader